Posts Tagged 'sarcasm'
There are some days when I wake up feeling that the last thing I drank last night was a bottle of acid. My words are sharper than ever, and I have that incredible skill to bitch about people and have fun with it. Today is one of those days… so lets take advantage of my mood and use it to make you smile by giving an evil look to some general group of characters that settle our beloved Game Community.
It would be almost impossible to mention all the different kind of characters that makes up the DW fauna, but I'm feeling scathing enough today to give it a shot and mention some of them here. I will just describe the ones that amuse me more, of course!.
Lets see if you recognize some of these personalities around you…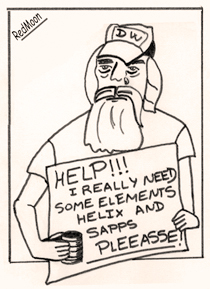 That pain in the ass… The Beggar:
We all have ever met one of them, we all have received one of those mails, we all have noticed that familiar attitude of the player that suddenly act as if he were your best friend and the next thing that happens is that you receive a mail that starts with "Hi mate, could I borrow…".
The beggar was a simple creature at the beginning of times in DW, but later they became more sophisticated, because their first specimens where vituperated by the whole DW population… so as every specie that wants to survive, they adapted to the conditions and developed new ways to camouflage themselves. You wont see a good beggar coming. He will approach in a silent way, he will watch you and wait… He will act as the tick that waits patiently on a tree for the dog to pass down there to jump on his back.  So watch your back, my friends… the beggar is always around, ready to jump on you!.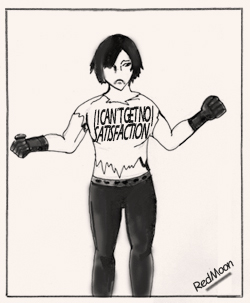 Ladies and gentleman, with you…The Dissatisfied:
There is nothing that you can do to make him happy… He will hate every change at the game, criticize every improvement, disqualify everyone's ideas and oppose to any decision.
The funny thing about these characters is that they usually don't have personal ideas or suggestions… All their energy is used to disagree about everything. If the sun is shinning at the sky, they yearn for the rain… But if it is raining, then they will yell to the clouds because "its not fair!".
With time and experience, I learnt to appreciate those grumpy yelling characters. For good or for bad they are there to cause polemic, and sometimes polemic is really funny.
And there they are, so cloying … The Lovely People:
Don't you ever think that there are people who just can't be so good?. Nobody is so good… we all have moments, we all have a dark side, we are all humans. But there seems to be a particular fauna that works hard to be the best friend, the most dedicated clan member, the most sensitive fellow gamer… All at the same time!. Again… nobody is so good!. The Lovely People never gets mad about a thing, never complains, if you slap them they will turn the other cheek. They always take everything serious, they explain the jokes and find a moral on them, they understand the funny jerk at chat and make him look as a misunderstood child that just needs love.
I have to say it. I could sound evil but I have to say it… being so good is lovely… but damn boring, lol!. Give me some irony, give me some out of place comment, give me some sarcasm, and I will believe you. But nobody is so good!.
Ohh, yes! you will recognize her easily…The Seducer:
They are the queens everywhere they go. They know how to call attention, they know how to seduce and be the ones. They look at the mirror before entering to chat, and use some perfume in their mails, they posts 10 pics per weeks at Non Game Discussion forum (you know… "that's me with my cuddly toy, that's me brushing my teeth, that's me changing a light bulb, that's me cutting the grass… me me me) .
But c'mon!… Be honest… in a game where 80% of the players are males, all girls are queens, lol. The difference between these ones and that ones is that The Seducers really believe in their roles, and behave like Hollywood actresses that haven't been discovered yet.
Could I have your attention everybody, with you… The Attention Caller:
They are prepared to do anything, and I really mean anything to call public attention. Losing dignity in the meantime is not really a problem. They are the ones that always make the silly comment out of place at chat… they are the ones that manage it to be farmed by everyone because they messed it up… they are the kind of characters that you add to your black wish list. The Attention Caller needs to be seen, no matter how. If it is about being the best loser ever…well, they can make it. If it is about being the bigger jerk… of course, there they go. If it is about being a pain in the ass… ohh, please! that's not difficult!.
These are just some stereotyped and exaggerated characters, none of them is a real character since people is more multifaceted than that,  but I bet that all of you have recognized some characteristics around there.
Luckily our Game Community is so assorted and complete that you will be able to find all kind of people. But at the end of the day, you keep the great people with you and have some fun about the rest. That's the idea, that is what is all about.
Red Moon
Tags: characters, dark warriors, dw, fun, game community, ironic, people, personalities, sarcasm